Treasures of the Brotherton: £1.9m gallery opens in Leeds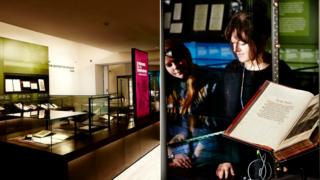 A collection of rare manuscripts and books has gone on public display for the first time at the University of Leeds.
The £1.9m Treasures of the Brotherton gallery, inside the site's Parkinson Building, features artefacts from the institution's special collections.
Items include a copy of William Shakespeare's 1623 first folio and a 4,500-year-old Babylonian clay tablet.
The opening follows a £1.4m grant from the Heritage Lottery Fund.
Shakespeare's first folio, printed seven years after the poet and playwright's death, includes Macbeth, Twelfth Night and The Tempest.
The clay tablet - used as a receipt for barley - originates from Ur in the Middle East.
Dr Stella Butler, keeper of the Brotherton collection, said: "We've had the difficult pleasure of selecting 100 or so items from more than 200,000 rare books and hundreds of thousands of manuscripts and objects.
"Our delightful challenge will continue because even the permanent display will be changing regularly to make sure we conserve these precious objects, giving us the opportunity to show the depth and breadth of the collections."