Bradford mill destroyed by fire demolished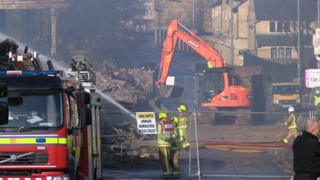 Demolition of the remains of a former mill severely damaged by fire is under way.
West Yorkshire Fire and Rescue still has about 25 firefighters at Drummonds Mill in Manningham, Bradford.
Ian Bitcon, of West Yorkshire Fire Service, said he had never seen firefighters "work as hard as they did to try to knock this fire back".
Nearby homes had to be evacuated after the basement of the building caught fire on Thursday morning.
The flames spread to the roof and part of the four-storey property in Lumb Lane collapsed.
Crews are expected to remain at the site throughout the weekend
More than 100 firefighters tackled the blaze at its height and crews had to withdraw from inside the building due to the intense heat and safety concerns.
People removed from about 100 homes in Lumb Lane, Manningham Lane and Grosvenor Road were taken to the Richard Dunn Sports Centre.
The cause of the fire is being investigated.
Drummonds opened in 1861 and was once at the heart of the textile trade, famous for its suit material
It became a Grade II listed building in 1979
The mill closed in 2002, unable to compete with cheaper foreign operations
Plans were submitted in 2012 to develop the mill into flats and businesses