Extremism discussion event held in Bradford by committee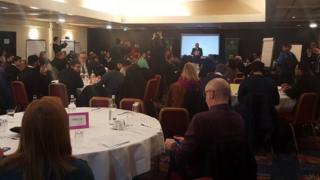 An event to gather "direct evidence" from young people as part of a government probe into extremism has been held in West Yorkshire.
The Home Affairs Select Committee led a discussion in Bradford attended by 16 to 25-year-olds from Yorkshire schools, colleges and community groups.
One focus was the government's controversial Prevent strategy.
Committee chair Keith Vaz told attendees comments would be presented to the Prime Minister anonymously.
The event, held at the Bradford Hotel, was the first of three planned events across the country.
The Prevent strategy, a multi-agency programme aiming to stop people being drawn into terrorist-related activity, was seen as "divisive by some" in Bradford, according to a city council report released in August.
Naz Shah, Labour MP for Bradford West, said: "The job of governments is to develop policies that create cohesive communities and togetherness.
"Clearly Muslim young people's sense of feeling British is being put to the test by policies like Prevent.
"I am therefore proud that the committee has accepted my invitation and chosen to come to Bradford to listen to young people's views."
Adam Aslam, a student and Imam at the University of Leeds, said: "Young people don't feel they're being spoken to or consulted, their right to critique the government is extremely important.
"The fact that we're here today is a sign that people want to listen, let's see how far we can take today's conversations."