£3m funding to develop case for Leeds flood defences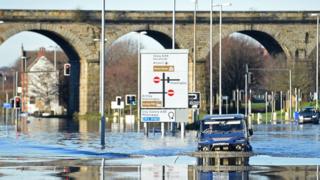 A £3m investigation into how flood defences can be improved in Leeds has been confirmed by the government.
Floods Minister Rory Stewart said the decision was based on the "enormous potential" of the city's economy.
He was replying to an adjournment debate called by Rachel Reeves, the Labour MP for Leeds West, who was calling for improved defences.
A £180m flood scheme for Leeds was shelved by the government in 2011 in favour of a much smaller scheme.
That scheme has still not been completed and Ms Reeves told the government that failure to look again at the situation in Leeds would "let people down".
"Let's build the Northern Powerhouse, let's not sink it before it has a chance even to set sail," she said.
The city's council had requested government cash to progress the second stage of the planned scheme.
Leeds flooding in numbers
1,732 Homes flooded

519 Businesses flooded

14 Other properties flooded, including the Industrial Museum, in Armley, and Leeds Rhino's training facilities, in Kirkstall

5.2 Peak height in metres of River Aire at Armley on 27 December - typical level is 1.5m
Getty Images
Mr Stewart said there would be a "full analysis" of the Leeds scheme.
"That will have to involve a lot of people in this House, discussing with local residents whether they're prepared to have their views cut-off, how high those walls want to go, to what extent companies wish to contribute to those walls."
He also said the rest of the country would need convincing about why Leeds was such an important case.
"We need to point out this is the UK's third-largest city, or second-largest or fourth-largest city, depending on where we put the boundaries.
"It's one of our leading financial centres - there's £54bn worth of an economy surrounded by Leeds."