Mild weather could affect Yorkshire rhubarb crop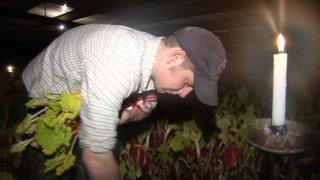 Growers in Yorkshire's "rhubarb triangle" fear the mild winter could affect the crop.
The area between Wakefield, Leeds and Morley is famous for its forced rhubarb, where the plant is grown inside sheds by candlelight.
The roots, natives of Siberia, are grown outside for two years before being moved inside and require frosty weather to stimulate growth.
Last month was the warmest December since records began in 1910.
Grower Janet Oldroyd Hulme said she could not grow a crop without any frost.
"We've waited and waited for the frost and it was in very short supply," she said.
"Eventually we managed just to get this early crop in and it was nearly two months late."
'All expense'
Ms Oldroyd Hulme said she had to put one batch of rhubarb roots in a refrigerator in order to kick start the growth process.
"It's just all expense and we've got to keep down costs down to make this affordable," she said.
In 2010, Yorkshire forced rhubarb was given protected name status by the European Union, joining Champagne and Parma Ham on a list of foods and drinks to have their names legally protected.
Every February, Wakefield Council holds a weekend-long rhubarb festival which attracts up to 100,000 visitors to the city.