Yorkshire Water fined £600k for Wakefield sewage leak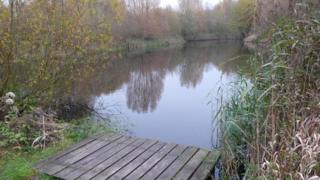 A water company has been fined £600,000 for a sewage leak which killed more than 860 fish.
Raw effluent escaped into Walton Colliery Nature Park, near Wakefield, in October 2013 after an ageing pipe maintained by Yorkshire Water burst.
Judge Guy Kearl QC said the company had been negligent after learning the pipe had burst four times prior to the leak.
Yorkshire Water, who admitted the offence, said it is spending "around £1m" on replacing the damaged pipe.
Leeds Crown Court heard the sewage leaked into Drain Beck, which feeds a fishing lake in Walton Park that, in turn, feeds the Barnsley Canal.
'Significant ecological impact'
An environment agency spokesman said that over the following days more than 860 fish were removed from the lake and canal, both of which are stocked by the Walton Angling Club.
He said "many more" fish were either eaten by gulls or sank.
Six months later a survey found the lake and canal were "almost devoid of fish" and it was not until March 2015 that a restocking programme, paid for by Yorkshire Water, was able to begin.
Mark West, from the Environment Agency, said: "This pollution incident had a significant impact on the ecology of the lake and the canal and it could have been avoided had the company taken action to replace the pipe following earlier bursts."
A spokesperson for Yorkshire Water said the judgement "in no way reflects the performance of Yorkshire Water as a whole and we are deeply sorry about the incident".
The company pleaded guilty to causing a water discharge that was not authorised by an environmental permit.
It was also ordered to pay £24,000 towards the cost of the prosecution.