Huddersfield A&E closure threat protest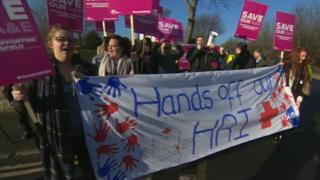 Protesters angry at plans to shut Huddersfield Royal Infirmary's A&E department have demonstrated outside a meeting to discuss the proposal.
The recommendation is part of a wider shake-up of NHS services in the area, which include replacing the infirmary with a new hospital at Acre Mill.
A report says the preferred option is to keep emergency services open at Calderdale Royal Hospital in Halifax.
It says the way hospital services are currently run is not "sustainable".
The proposal means people in Huddersfield could have to travel to Halifax, Wakefield or Barnsley for emergency treatment.
Dozens of people gathered outside the meeting in Huddersfield, during which the Calderdale and Greater Huddersfield clinical commissioning groups (CCGs) agreed to put the plans out to consultation.
Speaking after meeting Ellie MacDonald, who is co-ordinating an online campaign against the proposal, said. "I do not think there's any benefit to closing our A&E whatsoever, it's literally just financial.
"We're such a huge town that we warrant our own A&E department. I really do not understand any of the arguments."
'Most sustainable option'
The CCGs say the plan to shut the A&E in Huddersfield, together with other changes, will result in the smallest financial deficit.
They say maintaining emergency services in both Huddersfield and Halifax would leave a £28.7m deficit compared to a £10.7m deficit in 2021-22.
"Let us be clear, the way in which hospital services in Calderdale and Greater Huddersfield are provided simply isn't sustainable," the report said.
"Simply going forward and accepting the status quo will not enable us to deliver the quality of care that local residents deserve, nor will it provide either of our hospitals with the financial sustainability required to deliver that care."
The report said that in June 2013 a panel of National Clinical Advisory Team members said a "single site model... was the safest, most sustainable option".