Flood-hit cancer man fears he could die in hotel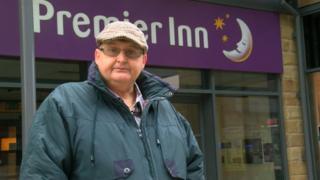 A man with terminal cancer who was forced out of his flood-hit home fears he will die in a hotel because it will take months to repair his property.
Michael Davison and his wife are living at a Premier Inn after flooding in Mytholmroyd on Boxing Day.
The 54-year-old, who has stage four prostate cancer, said: "I just want to be somewhere comfortable so I can die in peace."
Housing association Places for People said the couple were a priority.
Mr Davison said he had been told it would be between six and nine months before he and his wife could return to their home.
He said: "I might not have six to nine months. I don't want to pass in a hotel. I would like to be in my own home and I want my wife to be somewhere she feels safe."
His wife Wendy added: "I'm just devastated. I can't stay in a hotel, my husband is dying of cancer, I need to be in my own home so we can settle down and he can die peacefully."
A spokesperson for Places for People said Mr Davison being in the hotel in Halifax was not "ideal".
"Mr Davison and his wife are a priority and will be offered suitable accommodation, which meets their needs, as soon as it becomes available."
Calderdale Council said social workers were regularly visiting people who had been moved to hotels and that it was working with the housing association to make sure residents were cared for properly.
'Feel like crying'
Mr Davison is one of more than 40 people who have had to flee their homes on Elphaborough Close when the River Calder burst its banks.
Fellow resident, Philomena Bullock, has been living temporarily at the Imperial Hotel in Halifax.
When she was told it could take up to nine months before she could move back home, she said: "Sometimes I just feel like crying."
Across the wider Calderdale district, 2,780 homes and 1,635 businesses were flooded by Storm Eva.
Emma Coates Bremner has led the volunteer response across the Calder Valley and said within five days of the floods happening more than 6,000 people had got in touch via a Facebook page set up to help.
She said: "We are being asked to help some people who are in terrible situations, it's very sad.
"But there has been an amazing response. We have had hundreds of people offer their help - electricians, joiners, all sorts."