UK Floods: International charity supports those closer to home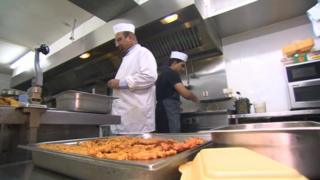 A charity which was set up to provide international relief following natural disasters has been offering help closer to home in the wake of the UK floods.
Global Promise, based in Bradford, was started in response to the the 2004 Boxing Day Indian Ocean tsunami and raised £2m to help survivors.
After witnessing the scale of the floods in Yorkshire, its volunteers have provided over 1,500 hot meals.
It has focused on the Calder Valley, which was one of the worst-hit areas.
Several flood relief hubs were opened to provide direction to volunteers offering help to those affected.
Zulfi Hussain, from the charity, said: "Every day we ring the local hubs to see what the priority need is. Sometimes it's hot food, sometimes it's dried food in tins.
"It's a combination of meals for people who haven't got any hot food and also for the volunteers working on the ground as well."
'A great need'
Meal boxes, including samosas, onion bhajis and vegetable curries, have gone to Elland, Halifax and Hebden Bridge as well as York and Cumbria.
Mr Hussain added: "We've been doing this for 11 years on an international relief basis.
"We're using that knowledge and experience closer to home as obviously there's a great need here, there's a lot of devastation."
The charity is amongst several in West Yorkshire to provide aid, as well as hundreds of volunteers offering their help.
Calderdale Council estimated about 2000 homes and 200 businesses were affected by the Boxing Day floods.
An online appeal for donations to help support the clean-up, set up by the Community Foundation for Calderdale, has raised over £350,000.