Duo jailed for Boston Spa cross-dressing heist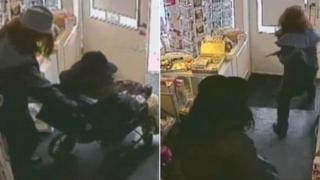 Two men who were part of a gang which robbed a village post office dressed as women have been jailed.
Brothers Martin and Mark Pick struck the post office in High Street, Boston Spa, near Leeds, on 23 March.
CCTV of the elaborate raid showed a third relative - Declan Pick, 18 - pushing his father, Martin, in a wheelchair as part of the ruse.
The father and son stole cash, fired an imitation gun and hit an employee with a crowbar, Leeds Crown Court heard.
They fled in a car driven by Martin Pick's brother, Mark, which was later found on fire.
Martin Pick, 38, of Willow Avenue, Clifford, was sentenced to 18 years in prison.
Mark Pick, 41, of Lea Farm Road, Leeds, was jailed for 16 years.
Declan Pick is due to be sentenced on Friday.
Judge Tom Bayliss QC described the heist as a "carefully planned, ruthless and violent robbery".
Postmaster Anthony Williams, who was attacked with the crowbar by Martin Pick, was emotional outside court and thanked those that came to his assistance in the commuter village.
He said: "It wasn't just a post office, it was my soul. I just want to move on."
The father and son duo, who were wearing wigs and hats, forced customers in the shop to flee when Martin Pick pulled a gun out from under a blanket over his knees.
His son produced what appeared to be a handgun and fired it at Mr Williams, but it was believed to be an air gun as no pellet was discharged.
After forcing open the tills and stealing cash, the pair fled and members of the public gave chase and attempted to detain them.
During the struggle, Mr Williams was hit over the head with a crowbar and the thieves escaped in a waiting car being driven by Mark Pick.
The vehicle, which had been stolen in a burglary in Wetherby in February, was found ablaze in nearby Beeches End a short time later.