New entrance opens in Leeds railway station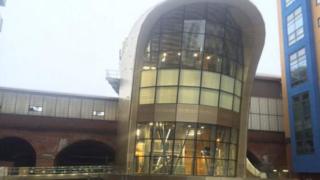 A new entrance to Leeds railway station has opened, two years after the £17.3m construction project began.
The entrance, to the south bank area next to the River Aire, will give access to the city's waterfront.
Senior councillors said up to a fifth of the station's 100,000 daily travellers were expected to use the new entrance.
The launch comes just weeks after the opening of a new station at Apperley Bridge.
Leeds railway station is the second busiest outside London, said Metro, who are responsible for transport in West Yorkshire.
The south area of the city has seen substantial growth and regeneration over the past 10 years.
Councillor Peter Box, chairman of West Yorkshire's combined authority, who contributed money to the project, said: "There's a great demand on the other [front] entrance and it is a big station - it compares to Kings Cross.
"So I think its a good investment for, not just the people of Leeds, but for the whole of West Yorkshire."
He added the development would bring "prestige and money" to the area.
The deck has two escalators up to the concourse and will provide access to either side of the river for passengers to get to Granary Wharf and Little Neville Street, or Holbeck.
Kirkstall Forge station, further out of the city centre, is due to open before Easter and a new £10.8m station at Low Moor in Bradford is expected later this year.