Couple fly out to meet Boxing Day boxers cloned from dead pet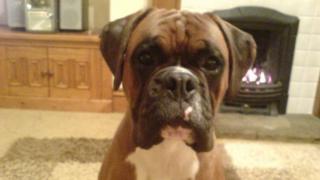 A British couple have flown to South Korea for Christmas to await for the arrival of two puppies cloned from cells taken from their dead pet.
Laura Jacques and Richard Remde, from West Yorkshire, were in "total shock" when their boxer Dylan died in June.
They told BBC 5 live they were waiting for the puppies, due on Boxing Day and 27 December, at a laboratory in Seoul, after paying £60,000.
Pet cloning has been criticised by organisations including the RSPCA.
Eight-year-old Dylan had a terminal illness which required up to 18 months of treatment, but the dog died 19 days after treatment started.
The couple, from Silsden, took DNA extracted from Dylan to the Sooam Biotech Research Foundation.
In cloning the DNA is implanted into an egg which has had the nucleus removed.
This is then implanted into a surrogate mother.
'A piece of Dylan'
Sooam's website provides advice on how to store your dead pet in your fridge as you prepare for the process.
Ms Jacques said: "Dylan was so special to us, he was my first dog and I put all my love into him.
"The way in which we lost him so quickly, I was in shock. This just led on from there. I know we could get another another dog, but I will have a piece of Dylan this way."
The pair said the cells "brought back to life" were gained 12 days after Dylan had died.
Mr Remde said: "It's going to be like one of Dylan's puppies, we don't expect anything else. We don't expect it to act like Dylan."
He told the Guardian: "It will be like five Christmases coming all at once."