Lorry driver found dead in Bradford subway crash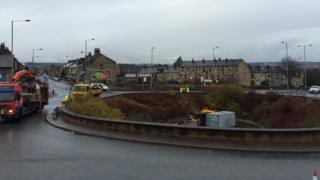 A lorry driver has died after his vehicle crashed through a roundabout barrier and plunged into a pedestrian subway.
The crash happened at about 02:10 GMT on the roundabout at the junction of Wakefield Road, New Hey Road and Neville Road in Bradford.
West Yorkshire Police said the 47-year-old driver was found dead at the scene.
Wakefield Road between Dudley Hill Roundabout and the Bowling Back Lane junction re-opened later on Thursday.
Updates on this story and more from around West Yorkshire
No one else was injured in the incident.
A police spokesperson said specialist lifting equipment was used to remove the lorry.
PC Nigel Fawcett had earlier advised motorists to avoid the area while the work took place.
He said: "Inquiries into the cause of what has been a significant and tragic incident on Bradford's roads are ongoing today as is work to recover the lorry.
"Due to the scale of the collision this is very delicate work and is taking time. We apologise to drivers for delays and thank everyone for bearing with us."
The force has appealed for witnesses to come forward.