'Pay what you want' dentist visits for Dewsbury patients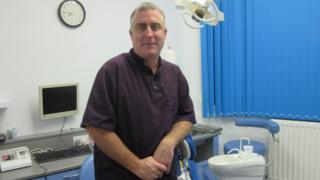 A global charity that has provided dental care in Africa and Cambodia is now bringing its work to Yorkshire.
People suffering from dental pain in Dewsbury can now receive treatment at a 'pay if you can' emergency clinic.
Patients can pay whatever they can afford to be seen by volunteer dentists at Dewsbury Dental Centre.
The Real Junk Tooth Project hopes to help the vulnerable and those on low incomes with urgent dental problems who cannot access NHS dental care.
Community food initiative The Real Junk Food Project is collaborating with charity Dentaid and local dentists in the project.
'Indescribable pain'
Claire Skipper, 29, pulled out her own tooth after she could not afford the public transport to an emergency clinic in Bradford, according to Dentaid.
She said: "My dad was also suffering toothache so we arranged to meet in my garden shed at 3 in the morning, drank whisky and pulled our teeth out with pliers.
"My dad managed to get his out but mine broke - the pain was indescribable.
"It took me another week to see an emergency dentist who removed what was left."
"I can't afford more than £30 a month to go on a private care plan - sometimes we don't have enough money for the electricity meter."
Kathryn Hilliam, Head of Co-Commissioning at NHS England in Yorkshire and the Humber, said: "In Claire's case, she unable to get to the appointment as it was not local to her.
"We are currently looking at ways to ensure patients are offered routine and urgent care near to their homes where possible."
Patients with access to an NHS dentist in West Yorkshire was 1.362 million in October 2015, according to NHS England.
The Real Junk Tooth Project will run every Thursday evening at Dewsbury Dental Centre on Halifax Road.