Brighouse Casa Hotel fined after balcony collapse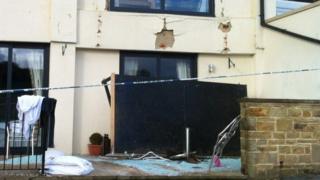 A West Yorkshire hotel and restaurant business has been told to pay more than £100,000 after five people were seriously hurt in a balcony collapse.
Hotel owner Jack McDaid and four women were standing on the first-floor balcony at the Casa Hotel, Brighouse in February 2013 when it gave way.
Castlelite Ltd and Casa Events Ltd admitted health and safety breaches.
At Bradford Crown Court, the firms were fined £75,000 and £15,000 respectively. They were told to pay costs of £20,000.
The four women, who were all fundraisers for nearby Highbury School, had been invited to the hotel by Mr McDaid as he planned to offer a room as a lot for a charity auction.
They had gone out on to the balcony as they were being shown the recently renovated bridal suite.
'Life-changing injuries'
At the hearing, Judge Jonathan Durham Hall said the balcony had been installed "on the cheap" and in a "cowboy fashion".
Mr McDaid was airlifted to hospital with head injuries after the 10ft (3m) fall down to a patio below.
The judge said Mr McDaid had become a victim of his own "corner-cutting".
"He knows he must and should have had this balcony rigorously inspected," he said.
The court heard that the four women had suffered life-changing injuries in the collapse.
"These were four healthy ladies who have been very, very seriously affected by something that should never have happened," the judge said.
Andrew Thomas QC, for the companies, said Mr McDaid had "genuine" sympathy for the four victims.
"It is oversight rather than a culture of cost-cutting or cutting corners that has led to this failure," he said.