Seized legal highs worth £34,000 to be destroyed in Leeds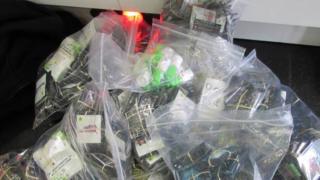 Legal highs worth approximately £34,000 are to be destroyed after what has been described as a "landmark" court ruling.
Shops in Leeds visited by trading standards officers and police were warned to stop selling the products.
When two stores refused the stock was later confiscated.
The forfeiture order issued by Leeds Magistrates' Court is the first in the county, according to David Lodge the head of West Yorkshire Trading Standards (WYTS).
The seized products were analysed in a laboratory.
In a statement, WYTS said: "Results showed many had anaesthetic effects, some contained serious toxicity levels and would have hallucinogenic effects on users and others consisted of synthetic cannabinoids which act like and have a similar effect as cannabis."
The two shops issued with the court orders were Redeye Headshop in Otley Road and High Rollaz on Compton Road, according to WYTS.
'Unpredictable and dangerous'
Mr Lodge said the court action was designed to remove "dangerous products from the marketplace".
"New psychoactive substances are labelled as 'not for human consumption' but they are designed to mimic the effects of controlled drugs, " he said.
"We have evidence people are buying these products to get high, and the effects on users can be unpredictable and dangerous."
Legal highs and the law
Legal highs are not currently covered by the Misuse of Drugs Act 1971 because drugs are classified as illegal by their chemical compounds. The composition of legal highs is often slightly altered so that the ban is avoided.
However, possessing or supplying a legal high is an offence if it contains a banned drug. Drug-driving, including after using a legal high, is illegal.
Some local authorities, such as Lincoln, have introduced a ban on people taking legal highs in public while other councils, including Newcastle, have used licensing powers or trading standards regulations to restrict sales.
Under new legislation going through parliament producers and suppliers could face up to seven years in jail.
The Psychoactive Substances Bill would be applied to "any substance intended for human consumption that is capable of producing a psychoactive effect", the government said.
Supt Sam Millar from West Yorkshire Police said: "This is a landmark ruling for West Yorkshire and is an excellent result for our ongoing partnership campaign to address the problems and dangers associated with the use of so-called legal highs.
Legal highs have been linked to a number of deaths.
According to the latest figures from the National Programme on Substance Abuse Deaths, at least 68 people died after taking legal highs in 2012.
They are smoked, swallowed and sometimes injected and often marketed as plant food, bath salts or incense.