Drug funding hope for Otley boy Sam Brown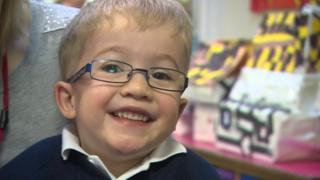 A six-year-old boy with an incurable illness can be treated with a drug that could help his condition after a deal was struck with the manufacturers.
Sam Brown, from Otley, has Morquio syndrome, which affects the way his skeleton grows.
Sam's mother said ongoing access to the drug Vimizim "is a really positive step forward."
The NHS said it would monitor its effects after sealing a five-year deal with drugs firm BioMarin Pharma.
Expensive drug
In June, the National Institute for Health and Clinical Excellence (NICE) said the drug was expensive and its clinical benefits had been "overestimated".
It then published its preliminary findings on the drug, known as elosulfase alfa, with NICE saying that, despite the drug being "likely to provide valuable clinical benefits", it would not "entirely stop disease progression".
Vimizin works to restore the cell function in Morquio patients. The estimated cost of providing the drug per person per year is £395,000.
Sam had been on a two-year long clinical trial with the drug with the promise of a further two years on a compassionate basis.
The drug is administered in Sam's case through a weekly infusion at Manchester Children's Hospital.
Long-term outcomes
An NHS statement said: "The establishment of a treatment scheme under the terms agreed by NHS England with BioMarin is now approved in draft guidance issued today, with final NICE guidance expected in December."
NHS England's National Director of Commissioning Operations, Dame Barbara Hakin said the agreement would enable them to start treating people and assess the results.
"This drug is not a cure but it can have benefits for patients, though long-term outcomes remain uncertain."
Sam's mother Katy Brown said: "We've had a lot of ups and downs but are waiting for the final decision on 16 December.
"It's a huge change. Six months ago it seemed out of reach."