Consultants in Leeds express concerns for junior doctors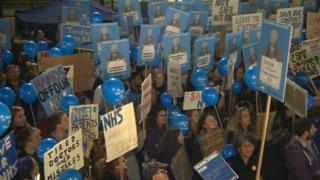 More than 360 hospital consultants in Leeds have signed a letter expressing "grave concerns" about proposed changes to junior doctors' contracts.
The letter to Health Secretary Jeremy Hunt calls the changes "demoralising" and "potentially detrimental".
The government says the current terms are "outdated" and "unfair" and wants to introduce new arrangements.
The British Medical Association (BMA) is to ballot members on possible industrial action over the proposals.
The proposed contract, which the government wants to introduce next year, includes an 11% rise in basic pay but a reduction in the number of hours that attract an extra payment due to being classed as unsociable.
'Blinkered refusal'
The letter, seen by the BBC, says: "We view the proposed changes as demoralising and potentially detrimental to the quality of patient care and to clinical outcomes.
"The excellent care offered by the NHS to patients is dependent on its staff.
"The NHS needs a stable, motivated workforce of high calibre junior doctors."
It sets out a list of concerns, including:
The threat of the imposition of a new contract
The impact of the changes on training
Uncertain pay progression for academic trainees
It says Mr Hunt should show junior doctors "the professional respect they deserve by listening to their concerns and entering a genuine dialogue without the threat of contract imposition".
Responding to the contents of the letter, a spokesman for the Department of Health said it had put forward "a firm offer that protects the pay of every doctor working legal hours while actually increasing pay for the vast majority".
He said the changes would reduce the maximum number of hours a doctor could work in a week and improve patient safety.
The spokesman said any strike action would put patients at risk and added that the BMA's "blinkered and persistent refusal" to engage with the government was "extremely disappointing".
The ballot of BMA members over possible industrial action closes on 18 November.