Armistice Day: Service held at Yorkshire Sculpture Park installation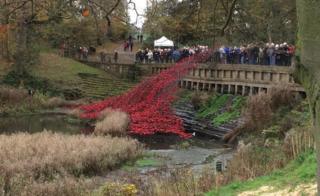 A service has been held at Yorkshire Sculpture Park's poppies installation to mark Armistice Day.
The poppy arch segment, Wave, consists of thousands of ceramic poppies falling from Cascade Bridge into the Lower Lake.
About 500 people gathered for poetry reading and a two-minute silence.
The installation is part of a nationwide tour of poppies from the artwork Blood Swept Lands and Seas of Red, which opened in London last year.
Updates on this story and more from West Yorkshire
Armistice Day follows similar ceremonies on Remembrance Sunday to pay tribute to those who died in World War One and Two and in every conflict since.
In World War One, the Yorkshire Regiment raised 24 Battalions served by 65,000 men, of whom 9,000 died.