Leeds gets graphic design war sculpture trail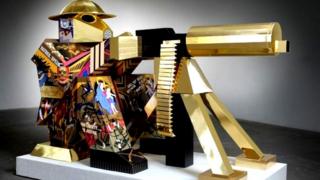 A sculpture trail inspired by World War One has been installed across Leeds.
Artist Ian Kirkpatrick created the four pieces using graphic design imagery to examine different aspects of the war.
The sculptures, including a golden machine gunner and a unicorn, can be seen at Leeds City Museum, Trinity Leeds shopping centre, Kirkgate Market and an independent shop in the city centre.
Kirkpatrick said he hoped people would feel "ambushed by the art".
The golden machine gunner, BLAST!, can be seen at Leeds City Museum.
Britannia astride a tank is installed at Trinity Leeds, while a "spectacular unicorn" called Kingdom of Dreams can be seen at Leeds Kirkgate Market.
Enemy of the Stars depicts a stricken airship merged with a dove of peace, and is on show at shop Colours May Vary on Duke Street.
The sculpture trail was inspired by artefacts in Leeds City Museum's collection, and commissioned by Leeds Museums and Galleries with funding from the Leverhulme Trust.
The artist's work is heavily influenced by commercial packaging design.
He said: "I hope people will look at these sculptures and appreciate them as standalone works of art, and also as collections of research into the Great War.
"I wanted to engage with local history and use it to examine the way graphics and imagery were used during the war.
"Some of the graphics of the First World War were so iconic and I've tried to present them in a new and contemporary way."
Kirkpatrick is originally from Canada but now works from a studio at East Street Arts in Leeds.
His previous work includes representations of ancient Greek vases and Egyptian sarcophagi.