Cherie Blair's stepmother Stephanie Booth denies bin theft charge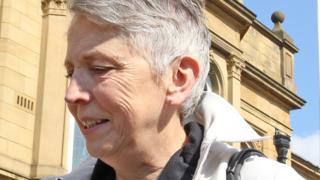 Cherie Blair's stepmother has denied stealing a neighbour's bin.
Stephanie Booth, who is the mayor of Todmorden in West Yorkshire, appeared before magistrates accused of the theft of a bin used to hold sand or salt.
Mrs Booth, 60, of Robinwood Terrace, Todmorden, accepted she had taken David Morgan's bin and disposed of it at a tip but denied taking it dishonestly.
The alleged offence took place on 4 December last year, Calderdale Magistrates' Court heard.
Prosecutor Richard Davies said there had been a disagreement about the ownership of a piece of land.
'Keeps moving the tub'
He said Labour councillor Mrs Booth had asked Mr Morgan to move a tub containing either sand or rock salt that was blocking her property.
"The defendant says the complainant keeps moving the tub. The defendant said if he doesn't move it she will.
"She accepts taking the tub and disposing of it. The question is whether it is dishonest," said Mr Davies.
Malcolm Nowell, defending Mrs Booth, said the facts of the case were accepted and the question was the dishonesty.
Mrs Booth, the fourth wife of Mrs Blair's father Tony Booth, is due to stand trial at Leeds Magistrates' Court on 29 October and was granted unconditional bail.