Leeds United fans arrested in Salzburg match brawls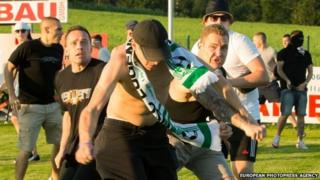 Three Leeds United fans were arrested in brawls following a football match in Austria, police have said.
Trouble erupted at the friendly against Eintracht Frankfurt on Tuesday evening in the Eugendorf area of Salzburg.
It spilled into the town centre when supporters of the West Yorkshire club invaded the pitch and were chased by Frankfurt fans, Salzburg Police said.
The force added it made 25 arrests which included three English people, who have since been released.
Leeds United said it was aware of the situation and would release a statement later.
Four Frankfurt fans were arrested for attacking security staff at the stadium and a Leeds fan was arrested for throwing a bench at police, according to a statement on the police website.
The force said Leeds fans were attacked inside the stadium and then again when leaving, with the trouble being carried into the town centre.
'Nasty injuries'
Phil Hay, a sports reporter for the Yorkshire Evening Post who was at the game, told BBC Radio Leeds the problems escalated at the final whistle.
"Leeds supporters spilled onto the pitch from one side and Frankfurt supporters came on and started fighting," he said.
"Riot police got involved and separated everyone fairly quickly, but not before punches were thrown and before people picked up fairly minor but still quite nasty injuries."
Three Leeds United fans were injured and pepper spray was used to bring the situation under control, police said.
Leeds were beaten 2-1 by the Bundesliga side, watched by about 1,100 spectators.
The club arrived in Eugendorf at the weekend for a week-long training camp and will now head to Norway for a friendly game against Hoffenheim, in Lillestrom, on Saturday.