Castleford Tigers new ground moves closer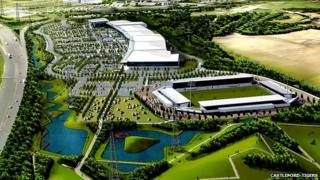 A new Castleford Tigers stadium has moved closer with the news the secretary of state has not "called in" a £135m scheme.
The rugby league club's 10,000-capacity stadium near Junction 32 of the M62 at Glasshoughton has already been approved by Wakefield Council.
Steve Gill, chief executive, said the club could now "thrive and not just survive".
Developers Lateral Property Group said the scheme could create 2,000 jobs.
Plans for Five Towns Park also include a 50-acre country park, shops and restaurants.
Mr Gill said "It's a huge relief to hear the application is not being called in... but we still have a lot of work to do before we start the groundwork.
"It makes sense in every way, shape and form not only for the rugby club but for jobs and everything we need in Castleford."