Leeds Makkah Mosque talk to curb radical threat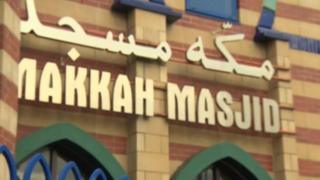 Representatives from a number of faiths have met at a mosque in West Yorkshire to discuss ways of combating the threat of radicalisation.
The meeting at Leeds' Makkah Mosque was held days after three sisters from Bradford took nine children into Syria.
The family is thought to be in a region controlled by militant fighters of the so-called Islamic State (IS).
Mohammed Shafiq of the Muslim Ramadhan Foundation said it was "an opportunity for Imams to engage with people".
Mr Shafiq said during Ramadan people would be going to the mosque every evening for prayers.
He added: "It's then that they can talk about these issues, talk about the ideology of Isis, of why so many people from our community are going our to fight for this terrorist organisation."
The three Bradford sisters and nine children had crossed into Syria, an Islamic State smuggler told the BBC on Friday morning.
The family were split into two groups to cross the border from Turkey, the smuggler in charge of some of IS's border operations said.
He said the first group went early on Wednesday and the second on Thursday.
Sisters Khadija, Sugra and Zohra Dawood and their nine children disappeared after travelling to Saudi Arabia for a religious pilgrimage.
The family was supposed to fly to Manchester following their pilgrimage but their husbands reported them missing when they did not return. They had last spoken to their children on 8 June.
The sisters' brother is understood to be fighting with extremists in Syria.