St Gemma's Hospice wedding dress owner tracked down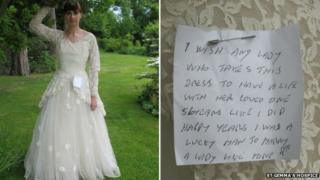 A widower who gave away his wife's wedding dress along with a heartfelt note about marriage has been found by the Leeds hospice he donated it to.
The story went viral after staff at St Gemma's Hospice shop in Garforth discovered the note attached to the vintage dress by a safety pin.
It read: "I wish any lady who takes this dress to have a life with her loved one 56 years like I did."
The hospice said the 85-year-old man wished to remain anonymous.
The charity launched a social media campaign to track down the "true gent" so they could thank him personally for the donation.
'Beautiful story'
Contact was made with the Garforth resident on Wednesday, the hospice has since reported.
Nicola Woodgate said: "He's the most delightful man ever. We chatted for two hours on the phone. I got the whole life story, the history, the wedding."
She added that he felt the "time was right" to donate the dress and was "amazed" it had attracted international media attention.
"He said this wedding dress has already had a beautiful story as far as he's concerned and it's just carrying on its journey," she said.
The hospice has decided to auction the dress on the internet in order to "maximise the funds for the hospice".