No charge for Dewsbury terror arrest teenager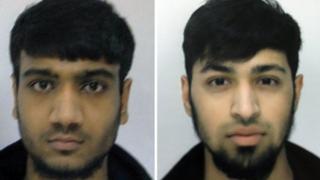 A teenager arrested in connection with the disappearance of two boys believed to have gone to Syria has been released without charge.
The 17-year-old from Dewsbury was questioned in April on suspicion of preparing terrorist acts.
The North East Counter Terrorism Unit confirmed he will not face any charges under section 5 of the Terrorism Act.
Hassan Munshi and Talha Asmal, both 17, are feared to have travelled to Syria to join Islamic State.
West Yorkshire Police and counter-terrorism officers are investigating.
Speaking at the time of their disappearance in March, the boys' families said they were praying for the safe return of the "ordinary Yorkshire lads".
Hassan's brother, Hammaad Munshi, was arrested in 2006 at the age of 16 after police found a guide to making napalm on his computer.
He became the youngest person to be convicted under the Terrorism Act.