Brian Robinson: Cycling legend, 84, awarded crash payout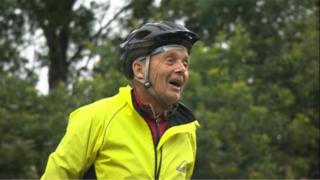 British cycling legend Brian Robinson has been awarded £15,000 compensation after being knocked off his bike near his home in West Yorkshire.
The 84-year-old was in collision with a car while riding with friends in Thornhill Lees on 16 July 2014.
Solicitors confirmed the payout after he was left with a broken collar bone, six broken ribs and a punctured lung.
In 1955 he became the first Briton to finish the Tour de France and in 1958 was the first to win a stage.
The accident happened on one of Mr Robinson's twice-weekly rides, less than a fortnight after the Tour de France's Grand Depart in Yorkshire last July.
The pioneering road racer, who still rides 80 miles a week, was back in the saddle just six weeks after the accident.
Mr Robinson, from Mirfield, said: "I would have preferred that it had not happened but I have been pleasantly surprised by how this incident has been handled through my British Cycling membership.
"I have had a great medical once-over and I am obviously pleased with the compensation which has enabled me to get back on my bike as quickly as possible."
Law firm Leigh Day said he had received the settlement for the costs of his bike and his injuries.
The veteran cyclist is regarded as a trailblazer for the sport in Britain and his successes inspired the talents of Tom Simpson and Barry Hoban who followed him.
He was also an ambassador for bringing the Tour de France to Yorkshire.