Respect leader George Galloway 'broke election law'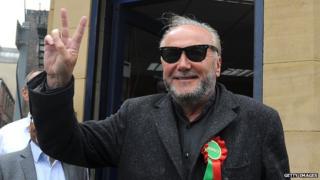 Respect leader George Galloway has been reported to police for allegedly breaking election law.
He is said to have retweeted his party's own exit poll before voting ended.
Bradford Council's returning officer made the report to police, according to BBC Radio Leeds.
Mr Galloway lost his seat to Labour candidate Naz Shah, who said his campaign "demeaned democracy".
It is against the law to discuss voting while polls are open, under section 66 of the Representation of the People's Act.
A spokesman for Mr Galloway told the BBC: "The returning officer is wasting police time. It's a storm in a thimble."
West Yorkshire Police said it would be reviewing the matter.
Mr Galloway snatched the traditionally held Labour seat in a by-election in 2012 with a majority of 10,140 votes.
It is not the first time he has hit the headlines over election laws - he was accused by Labour of making false statements about their candidate, Naseem Shah, in April.