Kirklees Council to pay living wage of £7.88 per hour to staff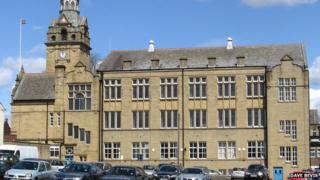 Staff at a West Yorkshire council are to get a new minimum salary based on the national living wage, from April.
Kirklees Council decided at a meeting on Monday night on a new £7.88 minimum hourly rate to be paid to about 2,100 employees, or 25% of its workforce.
The majority of council staff to get the basic pay increase currently work in catering and cleaning posts.
The living wage is based on the amount an individual needs to earn to cover the basic costs of living.
Kirklees Council said the cost of increasing the pay of those employees would be £1.1m.
In February, it was announced that more than 1,000 council jobs would be lost in the next three years because Kirklees Council must cut £69m from its budget, but the council's budget plan for 2015-18 includes money set aside for payment of the living wage.
The council, which is not under the control of any single party, serves areas around Batley, Dewsbury, Huddersfield and Holmfirth.
Unlike the national minimum wage, the living wage is an informal benchmark rather than a legally-enforceable minimum level of pay.
The wage level for Kirklees Council staff will be higher than the national living wage rate, which is £7.85 an hour across the UK and £9.15 an hour within London.
The council said it would not be contractually bound to increase pay by future national guidelines for affected staff and said minimum wage rates would be reviewed as part of the council's budget process for 2016-17.