Broken glasses a poignant reminder of Bengali man who fought for Britain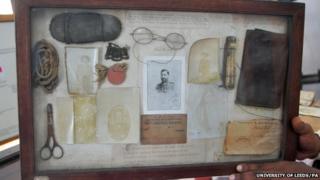 A pair of shattered, bloodstained glasses in a museum in India has shed light on the life of the only non-white man to fight for a West Yorkshire regiment in World War One.
Jogendra Sen volunteered for the 15th West Yorkshire Regiment.
He had just finished an electrical engineering degree at the University of Leeds but was barred from joining up as an officer because of his race.
His story was rediscovered following the chance discovery of his glasses.
Santanu Das, a reader in English at King's College London, came across the spectacles in a museum display case on a visit to his home town of Chandernagore, near Kolkata.
It was only when the academic gave a talk as part of Leeds University's Legacies of War centenary project that someone pointed out Pte Sen's name was on the nearby university war memorial, and further information began to pour in.
A contemporary photograph shows Pte Sen relaxing with his fellow soldiers - who knew him as Jon - while wearing what are thought to be the same spectacles.
He died in action as part of a wiring party that was heavily bombarded late on the night of 22 May 1916, after being hit by shrapnel in the leg and neck.
"I was absolutely stunned when I saw the pair of glasses," said Dr Das. "It's one of the most poignant artefacts I've seen - a material token of the fragility of life at the front.
"More than a million Indian soldiers and non-combatants served in different theatres of the First World War, but what is so unusual about Jogendra Sen is that he was not part of the Indian army but of the Leeds Pals Battalion."
Pte Sen was one of the first to sign up to the 1st Leeds "Pals" Battalion when it was raised in September 1914, according to researchers at Leeds University.
He was unusual not only because he was the only non-white volunteer but also because he was highly educated.
He left India in 1910 and, after graduating with a BSc in electrical engineering in 1913, he was working as assistant engineer at Leeds Corporation Electric Lighting station when he signed up for the war.
Arthur Dalby, who served with Pte Sen, spoke to historian Laurie Milner in 1988.
"We had a Hindu in our hut, called Jon Sen," he said.
"He was the best-educated man in the battalion and he spoke about seven languages, but he was never allowed to be even a lance corporal because in those days they would never let a coloured fellow be over a white man - not in England - but he was the best educated."
The researchers at Leeds University also found a photograph of a well-dressed young woman among Pte Sen's personal effects.
Taken in a Scarborough portrait studio, it was identified by researcher Ruth Allison as Mary Cicely Newton.
It is thought she and Pte Sen became friends while singing in Leeds' Mill Hill Chapel choir.
"I found the piecing together of Sen's story from the historical traces of his life and death that had survived in India and in Yorkshire very moving," said Prof Alison Fell, who leads the Legacies of War project at Leeds University.
"His story illustrates the extent to which the First World War was a global war that involved colonial soldiers and workers as well as those who volunteered or who were conscripted in their home nations."
A BBC Inside Out film tracing Jogendra Sen's story is on BBC1 (Yorkshire and Lincolnshire) at 19.30 GMT on Friday 6 March.