Featherstone Rovers to unveil old Scarborough FC stands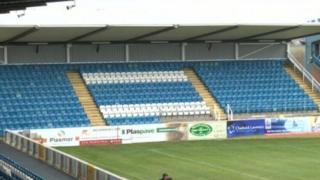 A West Yorkshire rugby league club is to unveil its new spectator area after volunteers built stands recycled from a derelict football ground 75 miles away.
The stands, at the Railway End of the Big Fellas Stadium, have been moved from the McCain Stadium at Scarborough Football Club.
The work has helped increased capacity at the ground from 6,700 to 8,000.
Featherstone Rovers chairman Mark Campbell said: "We get off our backsides and make things happen."
In 2011, Scarborough Council voted to demolish the McCain Stadium, which had been derelict since the football club was wound up in 2007.
Featherstone Rovers then agreed to buy two of the stands from the Seamer Road site and carry out demolition as part of the deal.
Volunteers and Rovers fans have been working for two years on the project to improve the stadium at Post Office Road.
The new look will be unveiled at the club's Championship match against Bradford Bulls on Sunday.