Anne Frank sapling planted in Bradford park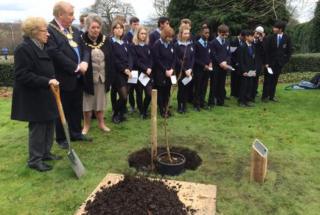 A sapling taken from a horse chestnut tree that stood outside the Anne Frank Museum in Amsterdam has been planted in Bradford.
It is one of only 150 trees grown from the original that stood outside the Frank family home during World War Two.
The sapling was planted in Lister Park by Anne's step-sister Dr Eva Schloss.
The planting coincides with the opening of a new Holocaust-related exhibition, Anne Frank and You, at Bradford's Kala Sangam Arts Centre.
Symbol of acceptance
Holocaust victim Anne wrote about the original tree in her world-famous diary in May 1944, saying: "Our Chestnut tree is in full bloom. It's covered with leaves and is even more beautiful than ever."
The 150-year-old tree was toppled in 2010 in high winds.
Dr Schloss, whose mother married Anne's father Otto after the war, told BBC Radio Leeds she hoped the tree would become a symbol of acceptance.
"We have to realise that everybody who lives amongst us is really the same as we are," she said.
"We have different religions, we come from different countries, but we are all decent human beings.
"We don't just have to tolerate them, we have to accept them amongst us."
---
Anne Frank: 1929 to 1945
Anne Frank was born in Frankfurt on 12 June 1929 to German Jewish parents Otto and Edith Frank. She had an older sister called Margot
Her family fled to Amsterdam in 1933 to escape the growing anti-Semitism of Nazi Germany following Hitler's election
Anne began writing her diary after being given a red checked notebook for her 13th birthday
Her family went into hiding in July 1942, taking up residence in a secret annexe at the back of her father's office building at 263 Prinsengracht, in Amsterdam
They lived in hiding until 1944 when they were were betrayed by an unknown person. They were arrested on 4 August and deported to concentration camps in Eastern Europe
Anne died just before her 16th birthday in the Bergen-Belsen concentration camp. Her mother and sister also died in the camps
Otto Frank was the only resident of the secret annexe to survive
He published Anne's diary on 25 June 1947
Source: Anne Frank Trust UK
---
Jani Rashid, Bradford Council's head of diversity and cohesion, said staff at the Anne Frank Museum, which gifted the tree to Bradford, were "impressed at the knowledge" of a group of secondary school students who visited in 2009.
He said: "We were surprised and honoured to have a sapling from the actual tree presented to Bradford."