Cancer fund-raiser Jane Tomlinson charity raises £7.6m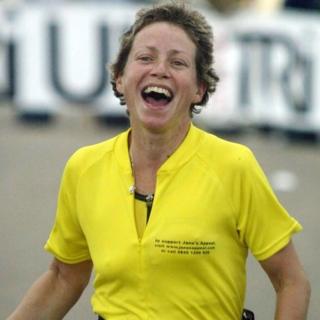 The charity set up in the name of Leeds fund-raiser Jane Tomlinson has raised £7.6m, her family has revealed.
Mrs Tomlinson was diagnosed with terminal cancer in 2000 but she started charity fund-raising with marathon events and bike rides in several countries.
She died in 2007 after raising £1.8m for hospices, cancer-related causes and hospitals.
Her daughter Rebecca said the figure was "beyond all expectations".
The Jane Tomlinson Appeal Run for All races have encouraged thousands of people to pound the streets in support of various causes.
Since the first Leeds 10k Run For All in 2007, the charity has launched fund-raising races in York, Sheffield and Hull.
'Uncompromising drive'
A spokesman for the charity said: "One of Jane's motives was to show that people with a terminal prognosis can still lead an active and fruitful life, and proclaimed: 'Death doesn't arrive with the prognosis.'
"She proved true to her word and with her uncompromising drive, unwavering determination and supreme bravery Jane provided true inspiration and genuine hope to a great many people."
Craig Fordham of Macmillan Cancer Support said: "Seven million pounds is an enormously impressive number, but it doesn't begin to tell the story of the real achievements.
"These lie in the hundreds and thousands of lives that Jane's Appeal has positively touched.
"Jane's Appeal has proved a wonderful, life-affirming and life-changing organisation - a remarkable and very fitting tribute to a remarkable lady."
Leeds Children's Hospital
The hospital bought two dialysis machines about eight years ago with money from the Jane Tomlinson fund.
John Dunwell, who received dialysis at the unit said: "If it wasn't for this fund we wouldn't have these machines and if we didn't have these great machines would any of the people given the chance to use them be here right now?
"If it wasn't for the machines they wouldn't have kept me going till I got that all-important call for my transplant. Ever since then I've just been able to go on and live a teenage life."
Sharon Devlin, a senior sister on the children's dialysis unit, said: "The machines replaced ones that had reached the end of their lifespans and they've allowed us to introduce new technology and to give a dialysis that's really safe and really high-quality."
About 80 children have used the machines at the hospital, she said.
"I never met Jane but when I think of her I think of courage and battling on in the face of adversity. It sums up what these children do", she added.
Mrs Tomlinson was 36 when, in August 2000, she was told she had terminal breast cancer.
Over the next seven years she went on to record major achievements as she outlived her initial six-month prognosis.
She raised money by completing a number challenges, including the Great North Run, London Marathon and the Ironman UK Triathlon.
'Fantastic amount'
Along with supporters Mrs Tomlinson completed fund-raising bike rides across America and from Rome back to the UK.
Daughter Rebecca said of the £7.6m figure: "We're just thrilled - it's a fantastic amount to have raised and beyond all expectations.
"It's hugely important to all of us that the work mum started is continuing today and we hope her legacy will carry on for many years to come."
Fahad Khan from the mental health charity Leeds Mencap said: "The Jane Tomlinson Appeal has also been a great and valued supporter of young people affected by learning disabilities and Leeds Mencap.
"In 2012 they kindly donated £10,000 to Leeds Mencap for our youth clubs which meant we could continue providing this service to children and young adults from the ages of 9-25 years, with services that they regard as a lifeline and parents regard as a crucial respite."
During the week the Jane Tomlinson Appeal will be announcing new ventures and research projects.