'Serious errors' in boy's heart care at Leeds General Infirmary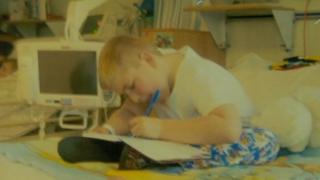 A hospital has apologised to the family of a boy who died after serious errors were made during heart surgery.
Bradley Brough, 11, from York, died following three operations in two days at Leeds General Infirmary in 2010.
The BBC's Inside Out programme has seen a letter from the hospital trust admitting errors were made and "confused messages" were given out.
It said there had been errors in decision making. Surgeon Nihal Weerasena is currently suspended.
Bradley had a complex congenital heart defect that needed an operation to divert the flow of blood.
But after three visits to an operating theatre within two days the youngster suffered a bleed on the brain.
The Inside Out investigation also spoke to lawyer Laurence Vick who represents nine families preparing to take legal action against the trust.
Bradley's parents Kevin and Sharon said their son's treatment and subsequent death "would never go away, a day never goes by without thinking of Bradley".
In a letter to Mr and Mrs Brough, Bryan Gill, the trust's medical director responsible for quality and governance, said experts brought in from London Children's Heart surgery Centre were critical of the surgery carried out on the youngster.
Mr Gill said: "The clear opinion of the experts was that there were errors in the decision-making by the whole team during this time.
"I want to say how truly sorry I am for the errors in care that have been identified by all the experts who have reviewed Bradley's treatment in his final 24 hours."
Mrs Brough said that nine hours after her son had been taken to theatre the family were "left in the dark" about his condition.
She said: "It was like they knew something was going on and didn't want to talk to us."
When Bradley returned to the ward, "nobody told us anything", his mother said. "They just said 'Bradley's back from theatre'."
Mr Gill's letter to the family adds: "At times the confusion that reigned over communication with different members of your family was very clearly distressing and I am truly sorry that we did not get this right."
The family told Inside Out Bradley was later taken for a brain scan and medical staff found "he'd had a massive bleed on the brain, most of his brain had died".
The family's lawyer Margaret Ryan said: "The first decision to proceed to surgery was wrong, they shouldn't have gone ahead with it when they did.
"Then when they did the surgery, they did it wrong... and then they delayed in realising that they'd done wrong and putting things right."
A cardiac surgeon consulted by the family's legal team concluded Bradley's care "fell below acceptable standards on several occasions".
He said the youngster had undergone a "wrong operation, incorrectly performed" and that the decision to reverse Bradley's surgery came far too late - after he had already undergone two gruelling operations.
The surgeon who carried out Bradley's operation - Nihal Weerasena - is not currently carrying out heart operations in Leeds.
The Leeds Teaching Hospitals NHS Trust said at the time the suspension had nothing to do with Mr Weerasena's mortality or morbidity rates.
The Hospital Trust has said an investigation into his practice was ongoing and the General Medical Council was also conducting an investigation.
Leeds Teaching Hospitals NHS Trust said its children's heart unit underwent four independent reviews over an 18-month period and the "overall conclusion was the service is safe and running well".
The children's heart surgery unit was temporarily closed in March 2013 because of safety fears.
Surgery was suspended for two weeks at Leeds General Infirmary's paediatric heart unit after data had suggested a higher death rate than average.
A year-long NHS England review subsequently concluded the unit "does not have an excessive mortality".
But it also found some families of very sick children received poor care.
Inside Out will be broadcast on Monday 2 February at 19:30 GMT on BBC One