First Bus fare increases "disappointing" for West Yorkshire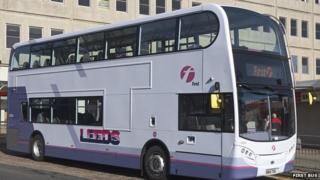 The chairman of public transport in West Yorkshire has attacked fare increases by the county's biggest bus operator.
First Bus has increased its fares by an average of 2.8%.
Councillor James Lewis, chairman of West Yorkshire Combined Authority Transport Committee (WYCAT), said he was "disappointed" by the fare rise.
Paul Turner of First Bus said the increases were "necessary" to improve services and cover operating costs.
These include salaries and wages, bus depot overheads and pensions, the company said.
"We need to review our fares from time to time to meet the ongoing challenge of rising costs to our business and ensure we can continue to invest in improving service for our customers in future.
"These changes help support the extensive seven day network of services across West Yorkshire, many of which are largely dependent upon fares from customers to cover their operating costs.
"I appreciate nobody likes it when prices go up but we have worked hard to keep any increases to a minimum," he said.
'Some fares unchanged'
First is the biggest bus operator in West Yorkshire with a fleet of 900 vehicles and nearly 3,000 staff.
Mr Lewis said he would put pressure on the company to make sure the falling cost of fuel is reflected in fares once the company benefits from it.
First said it is not currently benefitting from low costs at the pump owing to its purchasing of fuel months in advance.
It added that some fares were unchanged while others were cheaper, with a morning peak day ticket staying 60p cheaper than a year ago (£4, down from £4.60).
But from Sunday, an annual ticket for First West Yorkshire buses increased by £30, from £650 to £680. A day ticket has increased by 10p, from £4.60 to £4.70.
It also invested more than £8.5m in 52 new buses for Bradford, Calderdale, Huddersfield and Leeds over the past year, Mr Turner said.
WYCAT said although the average increase of First fares in West Yorkshire is 2.8%, adult single fares have risen by 8%, from £1.20 to £1.30.