Featherstone house in final £5,300 charity Christmas lights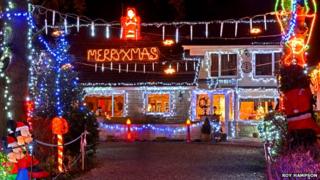 A couple who decorate their house and garden with about 30,000 Christmas lights for charity raised more than £5,300 with a final festive display.
Jon and Jennifer Sharpe, of Featherstone, West Yorkshire, have raised about £20,000 for a nearby hospice in the past five years.
They decided to pull the plug on future events when Mr Sharpe had cancer tests.
Mr Sharpe said the 2014 lights were turned off on New Year's Eve as a final £130 was donated during the day.
"That's it, the last time, and I'm quite upset," he said.
'Grandson won't understand'
Mr Sharpe, 74, said he could no longer physically cope with all the large Christmas decorations.
"My grandson won't understand why we haven't got lights all over the garden," he added.
He would be "keeping a few lights on the house" next Christmas but the large display items are to be used by a nearby farm shop to continue to raise charity funds.
The couple had been decorating their house in Featherstone Lane for about 20 years with recent fundraising benefiting the Prince of Wales Hospice in Pontefract.