Featherstone house in final charity Christmas light display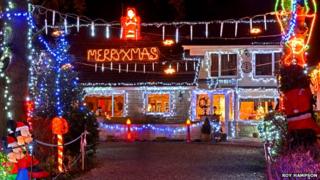 A couple who decorate their house and garden with about 30,000 Christmas lights for charity has switched on the festive display for a final time.
Jon and Jennifer Sharpe, of Featherstone, West Yorkshire, have raised about £20,000 for a nearby cancer hospice in the past five years.
They decided to pull the plug on the event when Mr Sharpe had cancer tests.
They now aim to raise £5,000 with a final display after the news that he is clear of the disease.
Mrs Sharpe said they had been decorating their house in Featherstone Lane for about 20 years, with recent fundraising benefiting the Prince of Wales Hospice in Pontefract.
Her 74-year-old husband had a CT scan that detected a problem with his lung and cancer was suspected. However, he received the cancer all-clear on Wednesday.
'Technical challenge'
Most of the light displays are bought in America where the couple have a home and they have spent "thousands of pounds" of their own money.
"Jon does it because he knows I love Christmas and he loves the technical challenge of all the lights," Mrs Sharpe said.
Lights are bought in October and November and work is normally finished in three weeks with Mr Sharpe working every day on the display.
This year due to his health problems the lights have taken about seven weeks to put up.
The last display will also include music synchronised to the flashing of the lights.
Spectators can walk down the drive of the house to get a closer view and turn up in their hundreds, according to Mrs Sharpe.
The display runs until the end of January.
The lights will be transferred to a nearby farm shop for Christmas 2015 and will continue to raise funds for the hospice.