Eastwood Household Waste Recycling Centre to reopen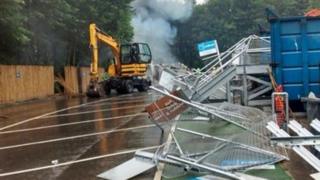 A recycling centre forced to close after an employee went on a rampage in a digger is set to reopen.
Trevor Lewis "completely flattened" the Eastwood Household Waste Recycling Centre in Todmorden in July, causing about £220,000 of damage.
The cost of repairs was met by the insurers of site operator Sita UK.
Lewis, 59, from Hebden Bridge, was jailed for three years in September after pleading guilty to causing criminal damage.
Sita regional manager Julie Craigie said: "I would like to thank local residents for their patience during the closure of the site and for their continued commitment to recycling during this difficult period."
The rampage happened seven months after the recycling centre had undergone renovations and improvements. It is due to reopen to the public on 23 December.