Leeds and Partners closure 'could save council £1m'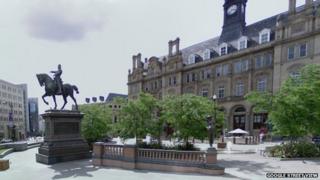 The publicly-funded investment agency for Leeds should be wound-up to save almost £1m according to a report for the city council.
The executive board is being recommended to close Leeds and Partners at a meeting next week.
Leeds City Council funds the agency, set up to bring jobs and investment to the city, to the tune of £2m a year.
The report states the local enterprise partnership (LEP) should take over much of the agency's role from spring 2015.
The agency's role in inward investment, marketing and communications should go to the LEP and the tourism role of Leeds and Partners should be run by Leeds City Council, the report states.
Staff at the agency are to be transferred to the LEP.
The report states the council could make a saving in 2015-16 of £950,000 without the separate corporate functions of the agency.
The council's present £2m spending on the agency is made up of a combination of cash and seconded staff.
Leeds and Partners has had a turbulent existence since September 2012 when it took over from a previous organisation Marketing Leeds.
'More robust footing'
Lurene Joseph the head of the organisation was to step down from her post it was announced in October.
In 2013 a report cleared Ms Joseph of bullying former staff but was labelled a "whitewash", by public sector union Unison.
Keith Wakefield, leader of Leeds City Council. said the agency had put inward investment "on a more robust footing" but highlighted the need to compete "more effectively as a city region both nationally and globally".
The LEP promotes the Leeds City Region that brings together the eleven local authorities of Barnsley, Bradford, Calderdale, Craven, Harrogate, Kirklees, Leeds, Selby, Wakefield and York and North Yorkshire County Council.
Leeds City Council's executive board is being asked to approve the recommendations on 17 December.