Calderdale and Huddersfield NHS Foundation Trust employees offered redundancy deal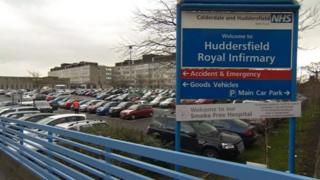 An NHS Trust has asked staff to take voluntary redundancy as it looks to slash its costs this year.
Calderdale and Huddersfield NHS Foundation Trust, which employs about 6,000 people, has not said how many posts it is looking to axe but Unison say it could be as many as 400.
The Trust initially planned to save £20m in 2014/15 and £19m in 2015/16 but reduced the first year target to £9m.
The union described the Trust's financial situation as "dire".
Julie Hull, the Trust's executive director of workforce and organisational development, said: "The Trust currently faces a number of significant challenges - service, structural and financial - which all impact on workforce in terms of the way we work.
"The Trust is today launching a voluntary redundancy scheme to assist in responding to these challenges and the environment in which we operate."
'Dire financial climate'
The Huddersfield Royal Infirmary and Calderdale Royal Hospital in Halifax is run by the Trust.
Only staff who have worked for the trust for at least two years on a continuous full or part-time contract are eligible to apply for voluntary redundancy.
Unison regional organiser Gary Cleaver said: "[The Trust has] said that they want to work in partnership with Unison...to ensure compulsory redundancies do not happen, however no guarantees could be made given the dire financial climate they are operating in."
A spokeswoman for the Trust said the initial £39m saving plan would have resulted in a £3m surplus but under the current £9m saving plan the Trust is projecting a £4m deficit.
The plan for 2015/16 has not yet been re-forecast.