Bradford picture agency Guzelian creates photo cafe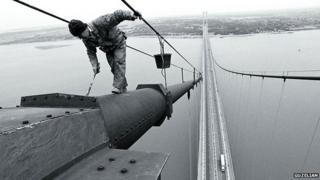 A Bradford picture agency which has covered news for nearly 30 years has put its photos on display in a new cafe bar and gallery.
The Guzelian agency was founded by photographer Asadour Guzelian in 1986.
Its pictures have been used in local and national media coverage of stories including the Shannon Matthews case and the Salman Rushdie book burnings.
The agency created the cafe bar in the ground floor of its base in Church Bank in the Little Germany area of Bradford.
Mr Guzelian has photographed news events including the Bradford City fire in 1985, the hunt for the Bradford prostitute killer Stephen Griffiths, and the Derek Bird shootings in Cumbria in 2010.
He also photographed the Tour de France in Yorkshire in 2013.
The first exhibition at the cafe-bar gallery includes photos of the Humber Bridge in 1989, views of Bradford city centre, and the Yorkshire Dales.
Mr Guzelian said the next display could feature a retrospective look at news stories the agency has covered over the past 28 years.