Stephen Powell from Guiseley jailed in £150m drugs plot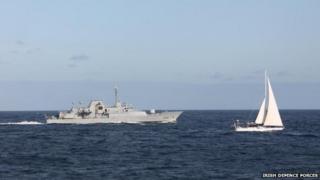 A man has been jailed for 16 years for his part in plotting to smuggle cocaine with an estimated street value of £150m into the UK.
Stephen Powell, 48, from Guiseley, West Yorkshire, was charged with conspiracy to import cocaine after more than a tonne of the drug was seized at sea.
The yacht Makayabella was stopped off the south-west coast of Ireland. Intelligence sources believe the class A cargo was headed for north Wales.
Powell had previously pleaded guilty.
He appeared at Leeds Crown Court by video-link from prison. He had handed himself in to police in September this year.
The operation against the smuggling plot had involved the Irish Naval Service and the National Crime Agency (NCA).
David Norris, NCA branch commander, said: "This single seizure roughly equates to 4% of the total amount of cocaine we estimate is imported into the UK every year."
'Took a gamble'
The yacht was found in September in poor condition in the Atlantic Ocean, 200 miles (322km) off the south-west coast of Ireland, while investigators also seized a motor boat called Sea Breeze, moored in Pwllheli, North Wales.
Powell's father, John Powell, 70, of Silsden, West Yorkshire, Benjamin Mellor, 35, of Bradford, West Yorkshire, and Thomas Britteon, 28, of Grimsby, North East Lincolnshire, were also charged by the Garda Siochana in Ireland with possessing cocaine with intent to import after they were detained on board the yacht.
They have appeared at Cork District Court in Ireland.
Paul Mitchell, prosecuting, told the court that Powell confessed his part in the conspiracy to his mother before handing himself in to the police.
Mr Mitchell said Powell told the officer at the station: "I believe you have got something of mine. £63m worth of cocaine."
Searches made of his home after he was arrested recovered satellite phones used to communicate with the vessel involved.
Adrian Pollard, defending Powell, said: "He took a gamble. He was approached, he involved himself, the risk was a significant one, it has not paid off."