BBG Academy in Kirklees requires special measures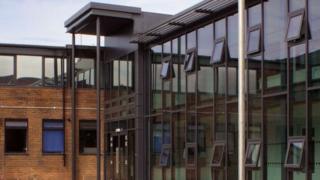 The first inspection of an academy near Kirklees has called for it to be placed in "special measures".
BBG Academy, at Birkenshaw, has been given an "inadequate" rating by the school watchdog Ofsted.
Inspectors visited the school in October and said it was failing to give pupils an "acceptable standard of education".
The secondary school, which opened in 2013, said it was "very disappointed" by the Ofsted report.
BBG Academy replaced Birkenshaw Middle School and has almost 600 pupils aged between 11 and 15.
It aims to become a complete 11 to 16 school by September 2015.
The academy was the result of a long campaign by parents to retain a school on the site when Kirklees Council announced plans to close it.
The campaign attracted support from David Cameron and Michael Gove before the 2010 General Election.
'Acted decisively'
Ofsted's report called for the school to "urgently improve" the safety and behaviour of students.
It said the school's management had failed to tackle the "unacceptable behaviour" of a small minority of students.
Sharon Light, chairwoman of governors at the academy, said: "Ofsted confirmed the areas of weakness that we as governors had already identified and are taking action to address.
"We have acted decisively to ensure the issues that the academy faces are resolved."
She said the academy planned to join the Rodillian Multi-Academy Trust, which runs the Rodillian Academy - one of the best performing secondary schools in Leeds.
Senior leaders from Rodillian are already working full time at BBG and Mrs Light said she was confident the school would "improve rapidly" in the next few months.