Bradford warehouse blast investigation begins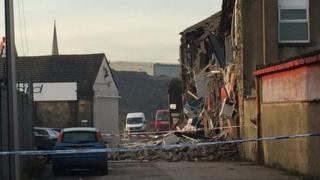 An investigation has begun into what caused an explosion at a warehouse in Bradford which trapped two people.
The women, aged 19 and 35, were trapped after part of the building collapsed. They were rescued by firefighters and treated for shock.
The blast happened at Range Storage and Material Handling in Parry Lane at 16:40 GMT on Monday.
Police said it was not thought to be suspicious and a suspected gas leak was believed to be the cause.
Lee Pattison, director at Range Storage, said: "There are no signs of any fire as such. There are papers scattered on the floor and they've not even got a burn mark on them.
"It is a bit of a mystery."
No-one was injured in the blast but around 40 people in nearby buildings had to be led to safety.
The fire service remained at the scene through the night for damping down and a structural engineer has been called to assess the building's stability.