Leeds' Bridgewater Place wind mitigation plans approved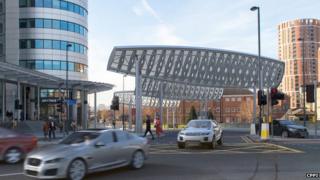 Plans to install screens to block high winds outside Bridgewater Place, in Leeds, have been backed by councillors.
High winds around the tower were blamed for the death of a man killed in 2011 when a lorry blew over and have caused several closures of nearby roads.
The scheme includes erecting three sail-like structures across Water Lane as well as screens and canopies.
Building owners CPPI have three months to outline an implementation programme and proposed timescale.
Councillor Peter Gruen, the council's executive member for neighbourhoods, planning and personnel, said the plans offer the "best solution to solving the wind issues at Bridgewater Place".
He said: "Now we look forward to the owners bringing back their detailed schedule to us so that work can start as soon as possible on providing permanent protection, whatever the weather, for everyone passing through one of Leeds' busiest junctions."
The plans would see large screens and baffle boards to deflect the wind - up to 50ft (17m) high and 66ft (20m) long - built near the building and above the road.
Dr Edward Slaney, 35, from Sowerby Bridge, West Yorkshire, was walking on a bridge over the River Aire in Neville Street when the lorry toppled over on to him on 10 March 2011.
A coroner later blamed his death on high winds.
Roads are currently closed to all users when gusts reach about 45mph, in line with the coroner's suggestion.