Arnold Schwarzenegger: Leeds is where it all began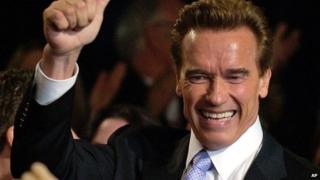 One of the world's most famous action movie stars has revealed how he was inspired by an unlikely friendship with a little-known Leeds United reserve team player.
Hollywood A-lister and former governor of California, Arnold Schwarzenegger, met Reg Park at the start of a bodybuilding career which saw him competing in working men's clubs across Yorkshire.
The star of the Terminator films said Park, who went on to become Mr Universe and starred in a series of films as Hercules, "was the blueprint for me throughout my entire life".
In an interview from his Los Angeles home with The Star newspaper in Sheffield, Schwarzenegger said: "I saw Reg Park on the cover of a magazine, in one of the sporting goods stores in Graz, Austria.
"It really changed my life overnight."
That was in 1962 and shortly afterwards, it was Mr Park that first brought a young Schwarzenegger to Leeds.
"It was all laid out what I had to do to become a champion and then what I had to do to get in the movies, just like him. I felt I could do it too.
"Reg was the most important motivator for me."
Schwarzenegger, who was appearing at a special event at Leeds United's Elland Road stadium on Friday, said it would be an emotional to return to the city.
"I have been to Leeds before to visit his parents when they were alive and when Reg was alive.
"He's passed away since, too.
"I wanted to get to know his mother, who was a strong influence on him."
He added England was also important to him because it was where he won his first Mr Universe competition and his career truly began.
He said: "It's where I learned to speak English.
"I was invited over to do guest appearances, strongman acts, lifting weights and all that stuff. I won Mr Universe contests in London."
The 67-year-old is far from retiring as he is set to appear again as the Terminator in the fifth instalment Terminator Genisys which is out next year.