Northern Rail drivers set for strike action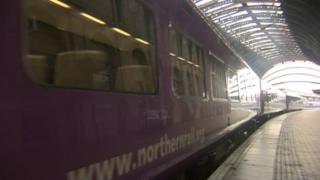 Train drivers employed by Northern Rail have voted "overwhelmingly" for strike action in a row over pay.
Trade union Aslef said its members voted by more than four to one in favour of industrial action, in an 82% turnout.
Strikes have been called for November 21 and 27.
Operator Northern Rail said it was "disappointed" by the vote for strike action as the firm had made "a very good pay offer of 2.7% in 2014".
The company said: "We are in continuing discussions with Aslef and have already planned to meet next week in the hope of resolving the situation."
Northern Rail said 1,211 of its 1,414 drivers were members of the union.
Aslef (Associated Society of Locomotive Steam Enginemen and Firemen) was contacted for a comment but no-one was available.