Children in Need: Pudsey Bear's path from mascot to national treasure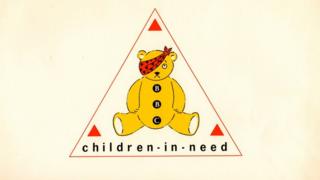 As the BBC's hugely successful Children in Need appeal swings back into action for another year, the creator of the charity's Pudsey Bear mascot explains how the cuddly teddy came to be named.
The origins of the nation's favourite bears are rarely a mystery - Paddington hailed from "Darkest Peru" and Winnie-the-Pooh the Hundred Acre Wood.
But while the clue is largely in his name, the story of Children in Need's famous Pudsey Bear pays tribute to more than just his West Yorkshire roots.
Creator Joanna Lane was working in the BBC's design department when she was asked to revamp the charity's monochrome logo in 1985.
Though the brief was simply to improve the image, she could not get the idea of making a mascot out of her head.
"It was like a lightbulb moment for me," she said. "We were bouncing ideas off each other and I latched on to this idea of a teddy bear.
"I immediately realised there was a huge potential for a mascot beyond the 2D logo."
Inspired, Ms Lane went looking for a teddy bear. Finding one in the studio props department, she took it back to the office and continued thinking of ideas.
"The only one they had was almost as big as me, so I struggled back carrying this teddy and sat it down in my office to figure out how to make this bear unique and representative of Children in Need," she said.
"It was very important to me that whatever we came up with was something that young children could relate to.
"It was never on the agenda to have a mascot, I just had this vision from day one that this is what it needed to be to reach people."
As the idea evolved, prototypes were made of the first batch of bears and Ms Lane pushed for an identity for the now famous yellow teddy.
"I had a whole story playing out in my head for this bear, " she said. "I went to the production team and said, 'we need to name it'. So they turned around and said 'if you think it's important to name him, you do it'.
"It came from the heart - I looked to my own experience and named him in honour of my home town and my grandparents."
Ms Lane was brought up in Pudsey, near Leeds, where her grandfather Irvine Ball was borough councillor between 1936 and 1955 and mayor of the town in 1950.
His community work included helping found the Pudsey Musical Festival, Pudsey United Chorus and the Pudsey Committee for Welfare of the Blind. His wife Rose, was also an active member of the community.
Ms Lane had no hesitation about honouring their work - lending the name of the town to a bear which fittingly became the face of a multi-million pound fundraising campaign.
Pudsey made his television debut in 1985 when Sir Terry Wogan introduced the new, brown cuddly mascot to the audience.
The toy proved popular and returned as the campaign's official logo the following year, with a new design to appeal to children - bright colours, lower-case lettering and a triangle shape which could easily be cut out.
He was given a new yellow coat of fur and as the decades passed, his red spotted bandage was upgraded to the multi-coloured number he sports today.
As he nears his 30th birthday, he continues to receive letters, drawings and e-mails from youngsters all over the UK and has been photographed with more celebrities than he can remember.
He's also made a friend in fellow bear Blush, who was introduced in 2009.
Sarah Monteith, from Children in Need, said: "Pudsey is integral to the success of BBC Children in Need. So many of us have grown up with Pudsey and have fond memories of him from our school days. He is unique in uniting generations and galvanising the nation to get fundraising.
"His look has evolved over the years and we have had some wonderful recreations of the yellow bears from the likes of top end designers such as Chanel to our very own Sir Terry Wogan. But there is no mistaking that it's the yellow bear with his colourful spots that the nation loves the best."
The BBC's first broadcast appeal for children was a five minute radio broadcast in 1927. But it was not until the first televised appeal under the Children in Need banner in 1980 that it became a household name. The charity has raised £740m to date.
Catherine Shuttleworth, from Savvy Marketing, said more and more charities are using a logo to entice potential donors, citing the Marie Curie daffodil and the British Legion poppy as good examples of charities which have become synonymous with their imagery.
She said: "The use of a strong logo or image can make all the difference in the battle for giving - we have seen this as brands have employed marketing and design agencies to help them create identities that keep them at the front of the mind.
"Pudsey has become a national treasure and a modern day icon with kids of all ages having instant recall of this cuddly chap and an understanding of the charity, and more importantly they know that when they see Pudsey he's here to help and that they need to help him.
"This has been a critical part of the success of the Children in Need campaign."
Though the race for recognition in the charity market is now commonplace, the success of Pudsey Bear as a branding tool has continued to amaze his creator.
"I remember walking through [BBC] TV Centre in Shepherd's Bush once and being confronted by this absolutely huge Pudsey, about 10 or 12 feet high," said Ms Lane.
"It stopped me dead in my tracks and I began to realise what had happened. I wasn't really aware of [Pudsey's impact].
"I'm so proud. Although I anticipated some of what's happened, it's really developed beyond my wildest dreams."