Carlton Bolling College: Extremism claim 'still valid'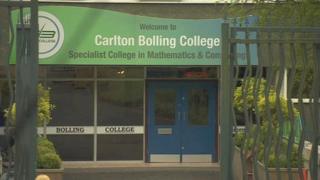 A Bradford school is still not doing enough to protect its students from extremism, a new report has found.
Governors at Carlton Bolling College were sacked in July after an Ofsted report rated the school "inadequate".
Inspectors revisiting the school last month said it was "unacceptable" it had "not rectified the situation".
Head teacher Adrian Kneeshaw said the school has now "remodelled" its plans and was continuing to "drive up standards".
Bradford Council said it was "working urgently" with the school's new Interim Executive Board (IEB) to address issues raised in the latest report.
The latest report, published on Monday, said the school's improvement plan was "not fit for purpose" and made several recommendations.
'Action without delay'
It also criticised the school's handling of extra government funding to help students from low income families.
It said: "At the last inspection the school was criticised because its policy failed to give necessary attention to the potential risks posed by extremism.
"The current policy... has not rectified this situation. As a result the criticism from the last inspection is still valid. This is unacceptable."
Mr Kneeshaw said he accepted the findings of the new report.
"In light of this we have already remodelled our plans to meet the expected standard," he said.
"This demonstrates how serious we are about taking whatever action is necessary, without delay."
Ofsted's report in July found the school met the needs of Muslim students, but did not take sufficient account of other faiths.
It said it was not protecting students from "possible risks posed by extremism well enough" and that the governing body was "an obstacle to improvement, rather than a champion of it".
Chairman of governors at the time, Faisal Khan, rejected Ofsted's findings, describing them as "completely false".