Leeds Hyde Park Picture House celebrates 100 years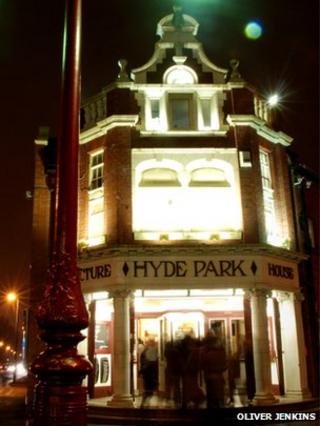 A cinema in Leeds is marking its centenary with a screening of historical films.
The Grade II listed Hyde Park Picture House, on Brudenell Road, opened its doors shortly after the outbreak of World War One.
The cinema, which still uses 35mm film, is hosting a 1914-themed event showing archive footage - including newsreels, dramas and comedies - from the period.
Manager Wendy Cook said the building was "incredible and special".
"If you close your eyes and think about a cinema, I think this is kind of the archetypal cinema. It's nothing but red curtains, plush red velvet seats," said Ms Cook.
"We still have so many incredible features from that time intact. We've still got the original gas lighting.
"It's just this incredible space that all adds together to make I think something that's very romantic."
As part of the centenary event, there will be live music from a swing band and cinema staff dressed in formal attire from the time.